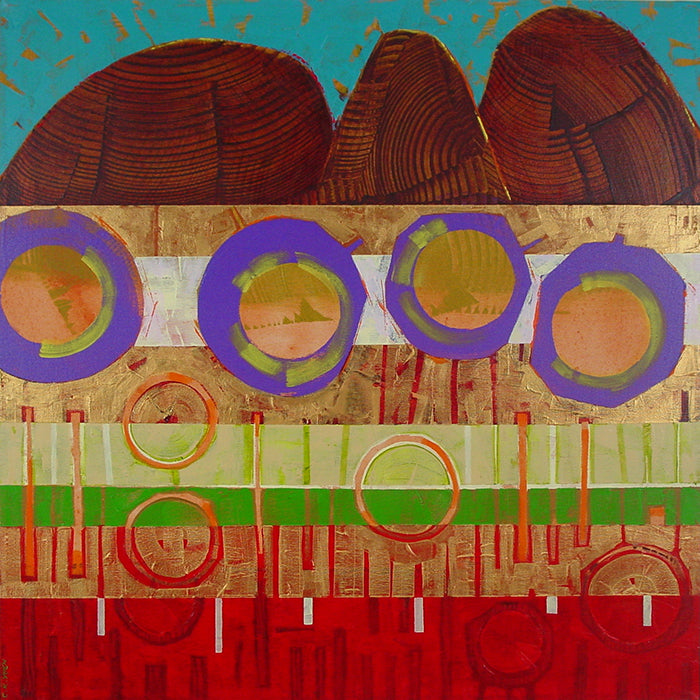 Mirrors in Landscape
Original acrylic painting with layers of washes and rich paints, including iridescent copper and gold.  A vibrant and dynamic landscape.  
24" x 24" x 0.75" stretched canvas with black painted sides.
Testimonial: "We had been looking for a number of years for acquiring our first authentic and original painting. Like many, we had reproductions at home but needed something more personal with deeper spirit. While we did not have a precise idea of what we were looking for, we knew we wanted something contemporary, truly original and colorful. We'd often walked through galleries and exhibitions hoping that something would stand out for us. But as is often the cases with personal quests, things are found when you are not looking.  When we were in Victoria for work, Chin's partner invited us to dinner at their place. We did not know that Chin was a painter. As soon as we entered their home, which actually feels like a little art gallery, we were struck by Chin's work. As we say in French, we had literally a 'coup de foudre' (love at first sight) with her artwork, with the color and patterns she creates. No need to be an expert to feel that her work is truly original. Back home, I secretly bought one of Chin's paintings, 'Mirror in Landscape,' for my wife's birthday. We feel we have made a unique discovery in the art world."  Daniel Bourgault, Canada.
---
Share this Product
---
More from this collection