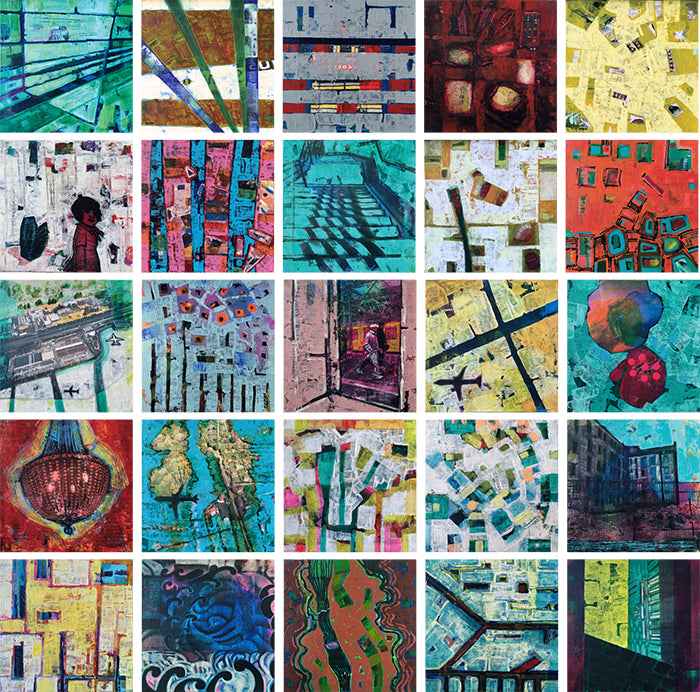 Berlin Souvenirs
During Yuen's 2017 artist residency at Takt (Berlin, Germany), she created 25 paintings that highlight the distance between memory and experience. She photographed things she encountered in her daily routine and incorporated them into her paintings.  She is consciously aware that all manners of record--photography, painting, and the visual imprint on her mind--are intrinsically removed from the original experience. The multi-layering of her works accentuates the illusiveness and subjectivity of memory, and offers her a souvenir of her own making.  
25 x 6" x 6" x 1.5" canvas boards on wood with black painted sides.  
Testimonial:  "I was invited to Chin's home for an intimate tea party and impromptu art showing of her work. After a brief introduction to the installation, 'Berlin Souvenirs,' the invitees broke off to meander. I, on the other hand, took a seat directly in front of the installation.  Normally, very chatty and vivacious, I remained transfixed and suspiciously quiet. Chin came to see if everything was alright, perplexed by my peaceful and calm composure.  I told Chin: 'I need this piece, I need it right now.' My feelings were so intense, I felt almost jealous, protective, and possessive as others would stop and examine it.
'Berlin Souvenirs' was everything about what I had grown to know about Chin as an artist over time, and yet it was everything about me in this significant moment in my life, a turning of a page in midlife, a gift to myself to rejoice this new, exciting, yet unchartered territory of self-discovery. 
The installation is on my bedroom wall, reminding me daily that a chance meeting a decade or more ago with Chin, became a significant and inspirational moment in my life all through the powerful dedication of Chin's talent as an artist."  Celestina Azzoni, Canada.
---
Share this Product
---
More from this collection